August 2015 Wrap Up
I just realized that I don't say what the book is about before I give my thoughts which is honestly kind of stupid because you have no idea what the book is about.
1. Thank You For Arguing, Jay Heinrichs 3.5/5
I'm not going to give a description because I couldn't really find a good one that wasn't really long. Basically I read this book for school and it was interesting I'll give it that at the same time it did get really boring and I just wanted to stop. It also didn't help that I had to annotate the whole thing.
2. Never, Sometimes, Always, Adi Alsaid 3/5
Best friends Dave and Julia were determined to never be cliché high school kids—the ones who sit at the same lunch table every day, dissecting the drama from homeroom and plotting their campaigns for prom king and queen. They even wrote their own Never List of everything they vowed they'd never, ever do in high school. Dave has a crush on Julia and they try to do everything on the list.
The entire book the two main characters say that they don't want to be a cliche but this whole book felt like a cliche, I love Adi's first book Let's Get Lost it was one of the best books that I read last year and I was so excited to be able to get an early copy of this book. At the same time this book like I said felt like a cliche. Julia reminded me so much of Margo from Paper Towns and we all know how much I loved Margo *sarcasm*. I didn't hate her but at the same time she was kind of obnoxious. The beginning of the book was promising and then it kind of went down hill. The ending was meh. It didn't make me happy or sad.
Not blown away.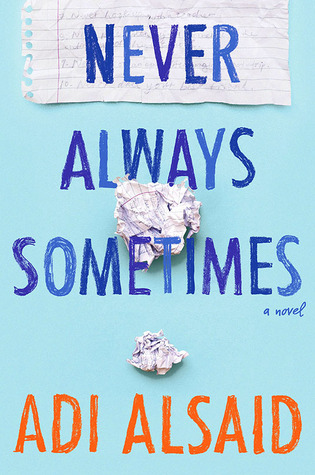 3. We'll Always Have Summer (Summer I Turned Pretty #3), Jenny Han 3.5/5
Summer I Turned Pretty description: Belly measures her life in summers. Everything good, everything magical happens between the months of June and August. Winters are simply a time to count the weeks until the next summer, a place away from the beach house, away from Susannah, and most importantly, away from Jeremiah and Conrad. They are the boys that Belly has known since her very first summer--they have been her brother figures, her crushes, and everything in between. But one summer, one terrible and wonderful summer, the more everything changes, the more it all ends up just the way it should have been all along.
Jenny Han, I love you. Never stop writing. Please.
This trilogy was amazing, like a breath of fresh air.
I felt like I was at the beach with all the character while reading these books. I wish that I could have enjoyed this one a little more. It was annoying at sometimes but the twist at the end definitely pulled the heart strings. Seeing Belly, Conrad and Jeremiah transform throughout the three books was really great. I felt that most of the characters grew up. I thought for sure I knew the ending to this book and I got it wrong.
Still the ending was better than my ending and i'm so glad.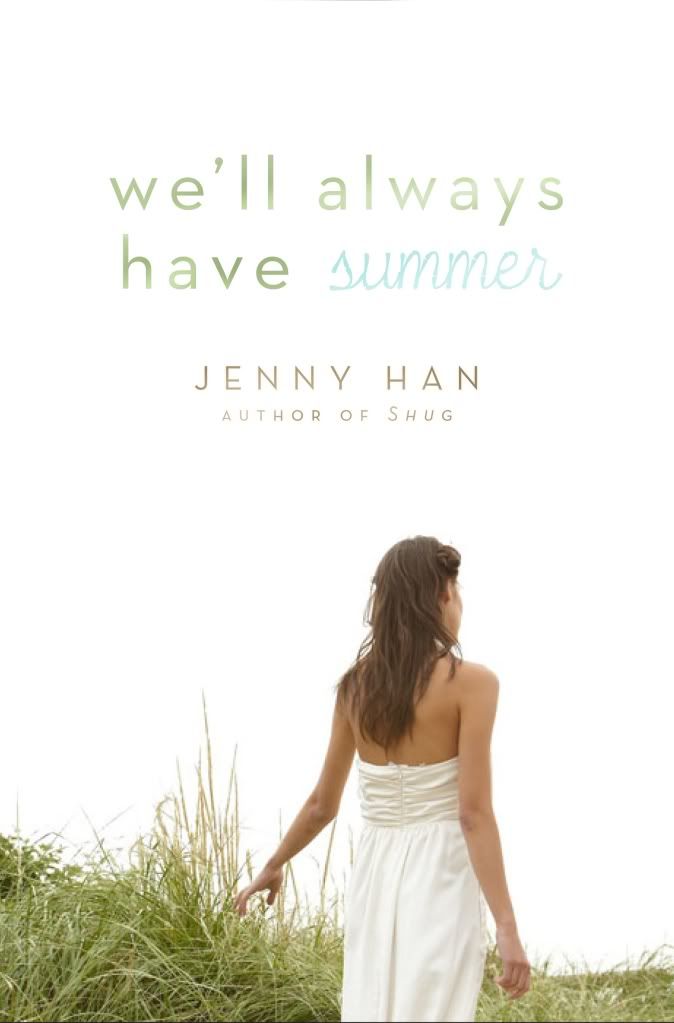 4. Extraordinary Means, Robyn Schneider 4.5/5
At seventeen, overachieving Lane finds himself at Latham House, a sanatorium for teens suffering from an incurable strain of tuberculosis. Part hospital and part boarding school, Latham is a place of endless rules and confusing rituals, where it's easier to fail breakfast than it is to flunk French.
There, Lane encounters a girl he knew years ago. Instead of the shy loner he remembers, Sadie has transformed. At Latham, she is sarcastic, fearless, and utterly compelling. Her friends, a group of eccentric troublemakers, fascinate Lane, who has never stepped out of bounds his whole life. And as he gradually becomes one of them, Sadie shows him their secrets: how to steal internet, how to sneak into town, and how to disable the med sensors they must wear at all times.
But there are consequences to having secrets, particularly at Latham House. And as Lane and Sadie begin to fall in love and their group begins to fall sicker, their insular world threatens to come crashing down.
I just finished this book and I don't know what to say. The thing that sucks about having such a big family is that you have to share a room with your brother and you don't want him to see you cry so you silently scream "Get out! I need to cry right now." So you just hold up the book and cry silently. I hate to say it but this book was like the Fault In Our Stars. The writing style and everything just felt like it.
It's not fair, it's just not fair.
Get out of this room Brady, now.
5. Then There Were None, Agatha Christie 2/5
Goodreads had a terrible description of the book.
This book really just wasn't for me. I didn't get the feel of why so many people loved this book. I normally love classics but this one was just to dry and predictable.
6. Pretty Little Liars, Sara Shepard (Pretty Little Liars # 1) 5/5
Three years ago, Alison disappeared after a slumber party, not to be seen since. Her friends at the elite Pennsylvania school mourned her, but they also breathed secret sighs of relief. Each of them guarded a secret that only Alison had known. Now they have other dirty little secrets, secrets that could sink them in their gossip-hungry world. When each of them begins receiving anonymous emails and text messages, panic sets in. Are they being betrayed by some one in their circle? Worse yet: Is Alison back? A strong launch for a suspenseful series.
I really thought that I was going to hate this book. I actually strangely liked it. I've seen some of the TV show and I hated it. It seemed like the stereotypical white girl/mystery. Stupid pretty girls make stupid decisions and something awful happens. I saw it at 2nd and Charles and it was really cheap. It was kind of like that and kind of not. The characters are stupid and sometimes rude. Except Emily so she's probably going to die. At the same time the story is fast paced and it kept my attention. There is also 16 books. I honestly don't know how you would write 16 books for a contemporary series. I don't know how this is going to go.
7. Kisses From Katie, Katie Davis 5/5
What would cause an eighteen-year-old old senior class president and homecoming queen from Nashville, Tennessee, to disobey and disappoint her parents by forgoing college, break her little brother's heart, lose all but a handful of her friends (because the rest of them think she has gone off the deep end), and break up with the love of her life, all so she could move to Uganda, where she knew only one person but didn't know any of the language? A passion to make a difference. Katie Davis left over Christmas break her senior year for a short mission trip to Uganda and her life was turned completely inside out. She found herself so moved, so broken by the people and the children of Uganda that she knew her calling was to return and care for them. Her story is like Mother Teresa's in that she has given up everything—at such a young age—to care for the less fortunate of this world. Katie, a charismatic and articulate young woman, has gone on to adopt 14 children during her time in Uganda, and she completely trusts God for daily provision for her and her family, which includes children with special needs.
This book is one of the most beautiful books that I have ever read. Katie is such a wonderful person to have the bravery and the courage to go to another country for a year to teach to kids who didn't even speak the same language as her. This book was kind of eye opening. I was telling SE that for a Ugandan single mother worked two jobs full time half of her salary would only pay for one of her children to go to school. It was amazing to read her passion to help others. She is completely humble and her faith that God would provide is inspiring. In even the most difficult situations she had faith. It was amazing to see how grateful Ugandan people are. They have almost nothing and yet they praise God everyday. It made me so angry at myself and other people who have so much and yet get angry and frustrated at God. I never really believed that to be a Mom you had to be a biological one. Katie is a real Mom who loves her 14 girls unconditionally and maybe we should all strive to be a little bit more like her. Maybe not by going to different countries but by helping those around us.
8. Diary Of A Jackwagon, Tim Hawkins 4/5
He's a comedian. He's a YouTube sensation. And now he becomes an author. Best known for his song parodies and riffs on yoga pants and homeschooling, Tim Hawkins now shares his perspective on life in the 21st century in his long-awaited debut book. Tim's topics are as wide-ranging as his stand-up comedy including marital communications ("Marriage needs a challenge flag, like in pro football"), worship music ("Pick the right key, because I'm not Barry White and I'm not a Bee Gee"), and food ("Eating a Krispy Kreme donut is like eating a baby angel"). Diary of a Jackwagon reveals a witty and relatable voice reminding readers that for life's many difficulties, laughter is always the best medicine – when there aren't any pills left.
Tim Hawkins is one of my favorite comedians. I am so excited to be seeing him this October. I was laughing out loud while reading this book.
9. The Perfectionists, Sara Shepard (The Perfectionists # 1) 3/5
In Beacon Heights, Washington, five girls—Ava, Caitlin, Mackenzie, Julie, and Parker—know that you don't have to be good to be perfect. At first the girls think they have nothing in common, until they realize that they all hate Nolan Hotchkiss, who's done terrible things to each of them. They come up with the perfect way to kill him—a hypothetical murder, of course. It's just a joke...until Nolan turns up dead, in exactly the way they planned. Only, they didn't do it. And unless they find the real killer, their perfect lives will come crashing down around them.
Hotchkiss is literally one of the worst last names to give a character. Especially the one whose dead. Why Sara Shepard?
This book was a lot like Pretty Little Liars and if you hated that book you probably won't like this one either. I don't know how long this series is going to be but I hope not long. This book was interesting but beyond disturbing. I don't read a lot of psychological thrillers because they creep me out and this is what this book was right. There was pedophilia in it and not that we shouldn't discuss a topic like that it's beyond disturbing to read. I was warned beforehand about that and I just didn't listen. The character were less enjoyable. Gosh they're depressing and I understand why but honestly lighten up the story once and a while.
I don't know when I will be able to pick up the next one.
Overall: I know that there is still a week in the month but I don't think that I will be finishing another book by then. With school and everything things are getting more hectic and there is less time to read unfortunately. This was a pretty good reading month of course that stupid reading slump was still going on but luckily I was able to read some good ones.
DFTBA
-AB